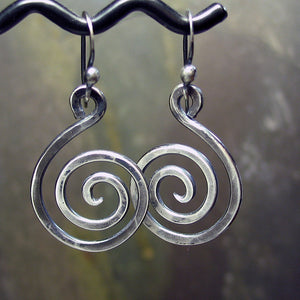 Sterling Silver Spiral Earrings - Antique Silver Swirls
Classic spiral earrings in antiqued sterling silver are quietly elegant with a touch of rustic. The earrings have been painstakingly shaped, then given a smooth planished finish, and lightly oxidized and buffed to give them a timeless look.  They are a medium weight earring meant to last a lifetime.

Swirls measure approximately 1 1/8" (28.5mm), and earrings dangle 1 1/2 inches (38mm), including the handforged fine silver earwires. 

Note: All of my ear wires are made from fine silver which is 99.99% pure silver. (Sterling silver is 92.5% pure, the remaining portion being copper). Fine silver does not tarnish like sterling since it does not contain any copper, and is slightly more white in color, a bit softer than sterling and less allergenic.