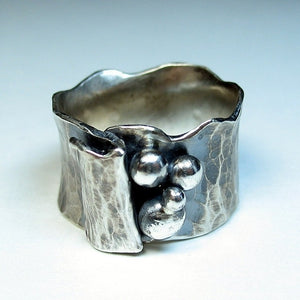 Artisan Sterling Silver Ring - Silver Pebbles
A sterling silver wide band ring with a unique organic design, this ring was cut from sterling sheet with a wavy freeform pattern on the top edge, then hammered and shaped by hand. Accented with a pile of silver 'pebbles', the ring is comfortable and easy to wear - looks great with everything from jeans to that little black dress. 
The band width is 1/2 inch (12.5mm). Each ring made will vary slightly since they are cut freehand, hand shaped, and the pebbles are melted into pebble shapes one by one. 

WIDE BAND SIZING NOTES:   For most people, a wide band ring needs to be 1/2 to 1 whole size larger than your narrow band size. Shape of your finger/knuckle determines the best fit. If you have not worn a wide band before, send me a message with your order, and I can help with sizing and fit suggestions to assure comfort. 
Copyright Notice:
This original design, descriptive text, and all photographs are © 2012-2023 by Cheryl Van Dyck and  Lavender Cottage Jewelry