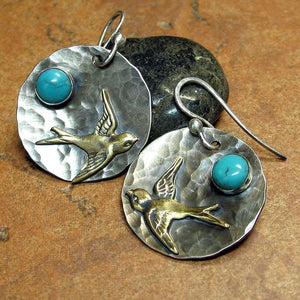 Hammered Sterling Silver Earrings - Across the Turquoise Sky
Hammered sterling silver earrings with brass swallows diving and swooping under a turquoise sky, bring just a hint of the southwest to mind. You'll always have blue skies when you wear these earrings!

The sterling discs measure 1 inch (24.5mm), in diameter, and the earrings dangle 1 1/4 inches (32mm), from the earlobe including the handforged fine silver earwires. The earrings have been lightly antiqued to bring out the color of the stones and texture of the metal.
Note: All of my ear wires are made from fine silver which is 99.99% pure silver. (Sterling silver is 92.5% pure, the remaining portion being copper). Fine silver does not tarnish like sterling since it does not contain any copper, and is slightly more white in color, a bit softer than sterling and less allergenic.