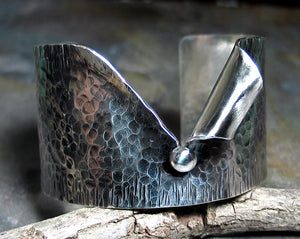 Sterling silver wide cuff - Pebble Road
Wide sterling silver cuff in a hammered pebble texture and my signature torn "v" with rolled edges.  This cuff is one of those goes-with-everything pieces that make your wardrobe work.  A little rustic, and a little bit sophisticated, it mixes and matches perfectly.  Find other pieces with my "pebble road" texture and pebble accents here.
The bracelet is approximately 1.5 inches wide with a pebbled texture created with a hammer.  Lightly oxidized and polished to a soft shine to bring out the details.